About Lucy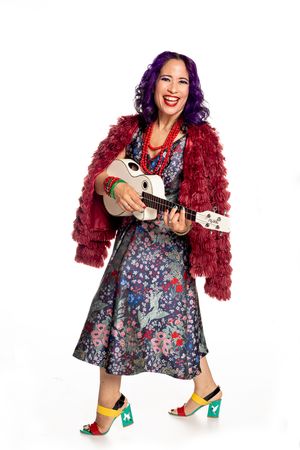 Lucy Kalantari is a 2x GRAMMY® Award winning artist, composer and producer passionate about creating children's media that brings joy, inspires community and highlights the power of resilience. She's the frontwoman and bandleader for Lucy Kalantari & the Jazz Cats, making bilingual, jazz age-inspired music for families. Her album All the Sounds, won the GRAMMY® Award for Best Children's Album, bringing joy and pride to the Dominican Republic, where she grew up. In 2020, Kalantari produced, recorded and arranged the GRAMMY® Award winning album All the Ladies, by Joanie Leeds, an impactful collection of songs to empower young girls and shape future minds of the world. In her EP, What Kind of World?, the title track was named Biggest Songs of 2021 by SiriusXM Kids Place Live. And the track "Round and Round" earned her 3rd International Songwriting Competition win, in 1st place for Best Children's Song. 
Born to Latin American parents (Dominican & Puerto Rican), she writes swingin' tunes both in English and in Spanish. Kalantari's songs have been featured on Universal Kids Snug's House and can often be found topping the charts on SiriusXM Kids Place Live and on rotation on family programs around the country.
As a full-time music creator and a mother to a 10 year-old musician, she still makes time to mentor, teaching high school and college students to follow the sounds in their hearts and pursue their passion. She's a soundBoard mentor for We Are Moving the Needle, a nonprofit organization supporting all women recording industry professionals, audio engineers and producers.