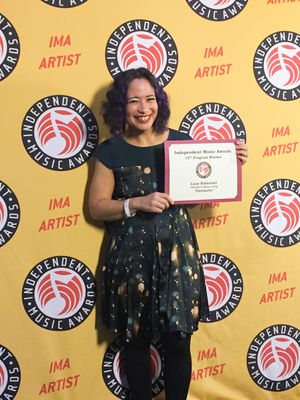 And this is me with the biggest grin in the world, thanks to friend (and fellow nominee) Jeff Oster for taking this picture. 
As they were about to announce the winner for Best Children's Music Song, to say that my heart was beating fast would be an understatement. It was basically starting a whole orchestra on its own!
I'm thrilled that my song, "Fantastic" won this prestigious award. And a big thanks goes out to all of IMA judges and an even bigger thanks to everyone who made the recording of this song possible: Linus, Larry, Rich, Saro, Josh, Ryan, Denise, Alan.
You are fantastic.